Facial Treatments



By Make Up Spot
Million Dollar Facial
Million Dollar Facial is exactly that, The A list go to glow facial, a favourite for A list celebrities like Kim Kardashian and Jenifer Lopez.
Working your skin from the outside in, this luxurious facial combines two key techniques Derma Planing and Micro Needling to deeply exfoliate days of dead skin cells and remove soft vellous hair leaving the skin powerfully polished.
Part 2 of the Million Dollar Facial uses the most advanced micro needling technology around. The Raffine Device penetrates 8 microscopic needles into the face to stimulate and trick the skin to produce natural collagen and to rejuvenate elastin leaving you with bouncing, baby like skin!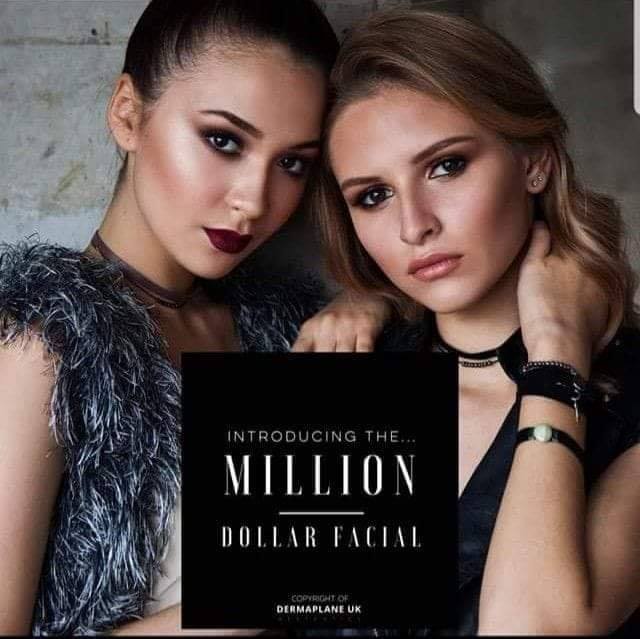 Million Dollar Facial - 1 hour 30
At Make Up Spot, our Million Dollar Facial combines science with indulgence.
Starting with a skin analysis and consultation reviewing what you want to achieve from the treatment, we then move on to Dermaplaning. This will exfoliate the skin and remove soft 'fuzzy' hairs from the surface, preparing the skin for the micro-needling.
The micro-needling process involves our Raffine micro-needling device. This stimulates your natural collagen in order to  rejuvenate ski, minimise the appearance of large pores and reduce fine lines and wrinkles. As well as this micro-needling can also repair irregularities such a scarring and hyperpigmentation.
After micro-needling it is time to hydrate the skin. We use hyaluronic acid to penetrate and restore the skins moisture and provide a hand and arm massage whilst this works it magic.
With smooth, hydrated skin, you will leave feeling a Million Dollars.
Million Dollar Facial Price
1 Session £150.00
3 Sessions £400.00
Dermaplaning – 45 minute
What is Dermaplaning?
Dermaplaning is a deep exfoliation process which involves removing dead skin cells and 'peach fuzz' from the surface of the skin on order to create smoother and more radiant skin. This exfoliation process is carried out using a scalpel which is handled by a professional and aims to increase the skins absorption levels by 80%.
At Make Up Spot, we finish all our Dermaplaning sessions with a prescription facial mask which is designed to hydrate the skin and enhance your overall glow.
Dermaplaning Price - £55.00
Micro-needling for the Face - 1 Hour
Micro-needling is the process of penetrating the skin with short, fine needles in order to encourage healing, decrease wrinkles and hyperpigmentation and promote radiance.
The idea of micro-needling is to injure the skin using the small needles and therefore trigger collagen to respond to the injured parts. This will then allow the collagen to fill in lines and plump the skin as well as leaving an overall glow.
At Make Up Spot we use the Raffine micro-needling device which helps stimulate the elastin in your skin to create a youthful, radiant look. Using a device means we can change the depth of the needle and therefore target problems areas with more precision.
Our micro-needling treatment includes prescription facial mask and a lymphatic drainage massage.
Benefits of micro-needling
Reduces fine lines and wrinkles
Minimises appearance of large pores
Reduces scarring and pigmentation
Re-hydrates dull, tired skin
Sun Damaged skin
Acne scarring and breakouts
Stretch marks
Microneedling Price - £120.00 per treatment